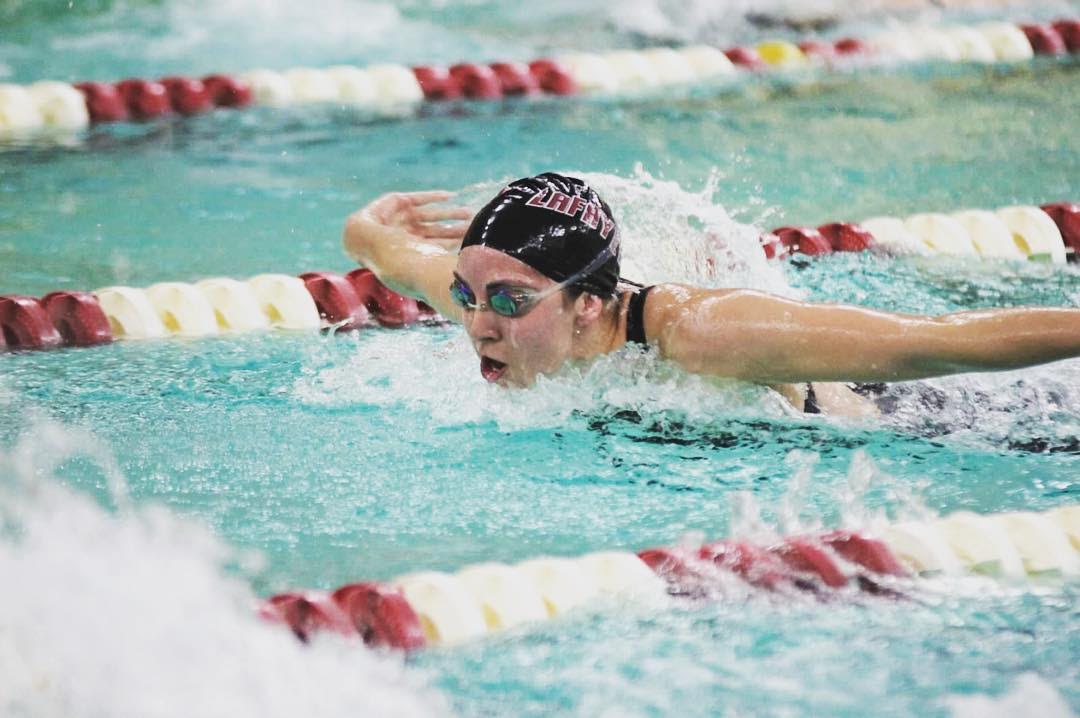 My name is Jackie and until about two months ago, I was a collegiate swimmer. My senior year season has just ended, which means that I can finally talk about my experiences without running the risk of violating NCAA endorsement rules. 😉
I have been a swimmer my whole life. As a five year old, I did swim lessons, and my instructor told my parents I was a natural. So when I was in first grade, they signed me up for the swim team. At my first meet, I apparently asked my parents who those "other kids in the other swimsuits are" because I didn't understand that it was a competition. But they kept bringing me back to the pool a few hours a week and I stuck with it, competing a dozen times a year at local YMCAs. Pretty soon, I caught on to the idea of racing. And like my swim instructor had said, I was a natural. As an 8 year old, I was one of four girls who got a freestyle relay record, and from the time I was 12 and older, I got each age group butterfly record.
In high school, I swam four to five times a week, two hour practices. We never did much weightlifting. Just "dryland," which consisted of bodyweight exercises, mostly "core-building." My junior year was my fastest year. I swam the 200 fly in about 2:18-2:20 at the average meet, and when I was tapered for Y Nationals, I swam it in 2:12. I weighed around 130 lbs during this time, at 5'7″.  I thought I was pretty fast, so I chose to swim at a small division 1 school where I would be comparable to their butterfliers and competitive in the league.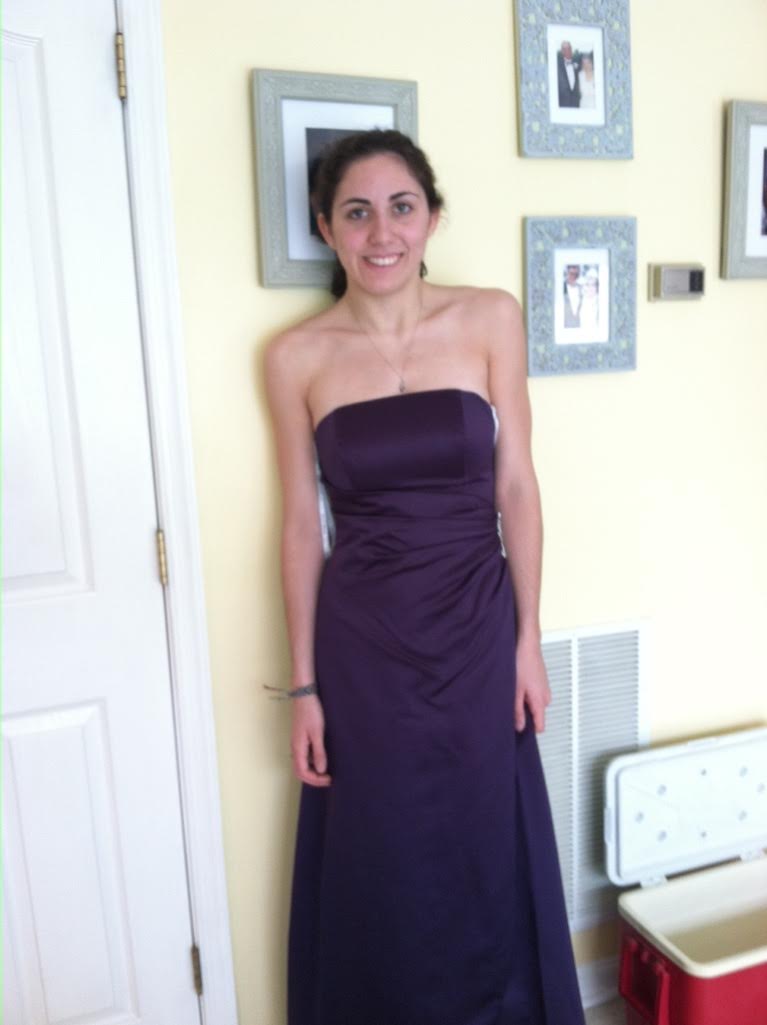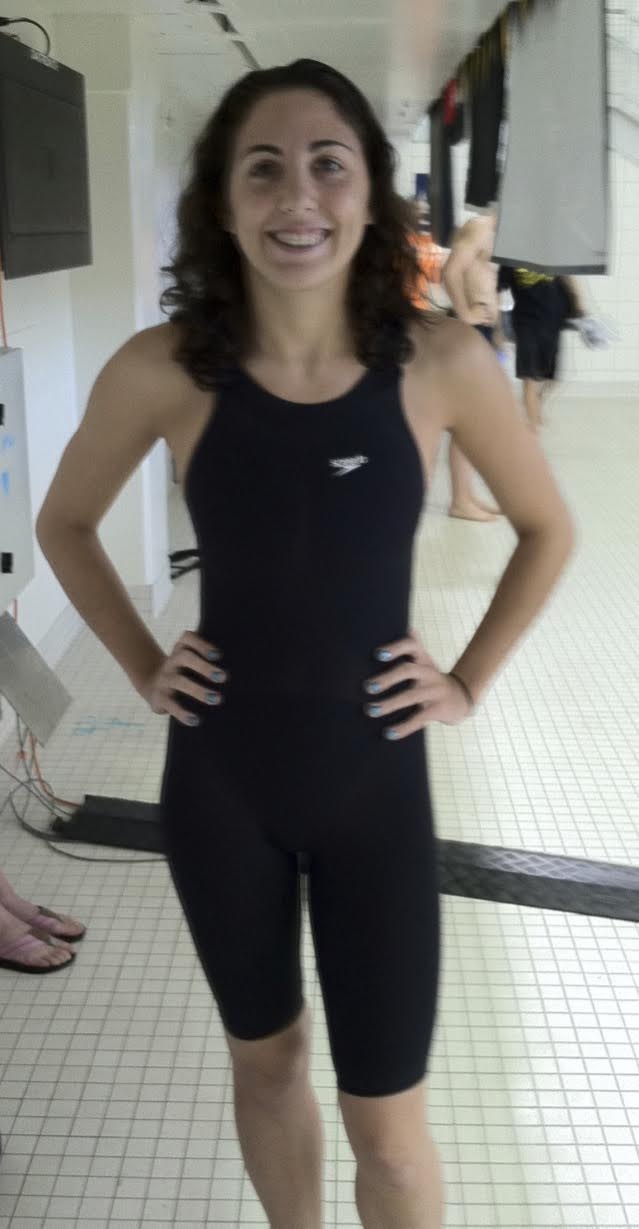 My freshman year in college, we swam six times a week for 2 hours each and lifted for 45 minutes twice a week. This was a significant increase from high school, and so my times reflected that. At my very first meet, not rested or anything, I swam my 200 fly in a 2:12, an all-time personal best. The rest of the season followed suit, and I came in 6th in the league in both the 100 and 200 butterfly, with a new best time of 2:05.9, a team record. I weighed around 135 lb at this time.
What I learned from this year was that the strength training I was now doing in college made a difference. I was getting a little stronger. Our team lifts used a lot of free weights to do bench press and shoulder press, step-ups and lunges, assisted pull-ups and core exercises. I got my squat max up to 115lbs, which for the swim team girls was a lot, and I swam really well as a result of my new strength gains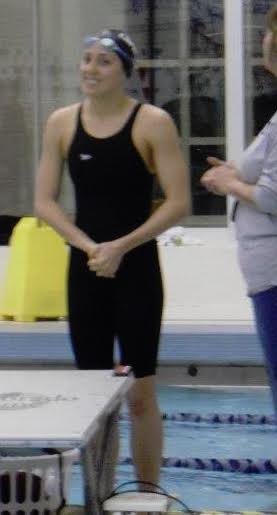 But by my sophomore year, I discovered that I couldn't increase my squat because I kept doing it wrong, adding weight and inevitably, hurting myself. My championship season ended with me swimming a 2:09 and feeling really fed up with the sport. I was training just as hard as my freshman year, so why couldn't I swim just as well as the year before? My coach told me that the only way I would reach my goals would be if I got stronger. But he didn't tell me HOW to get stronger. I talked to my dad about this and since he was looking into strength training to rehabilitate his back, he started sending me articles about lifting. Some of these were national and olympic level swimmers who weighed lifted significantly more than my team and I. In the articles, they talked about getting their squats up to 200 lbs and being able to row 65 lbs with dumbbells. They acknowledged that their strength was what allowed them to win these competitions. After reading these stories, everything started to come together in my mind. My dad and I started researching ways I could get stronger. Eventually, our research led us to Starting Strength.
We purchased the book so I could have some idea of how I was squatting wrong, since my lifting coach at school had not been able to figure out how I was hurting myself. After a few months of reading it, I soon realized that I needed someone who knew what they were talking about to teach me how to squat properly.  The summer before my junior year, my dad and I contacted Fivex3 Training and that summer, I learned how to lift properly without injuring myself. I trained three times a week and Emily taught me how to squat, press, bench and deadlift. The only thing I had to do this summer was work on getting stronger. My first session, I squatted 95lbs and benched the women's bar which weighed 33lbs. By the end of the summer, my squat was up to 145lbs, and I had gained 10 lbs.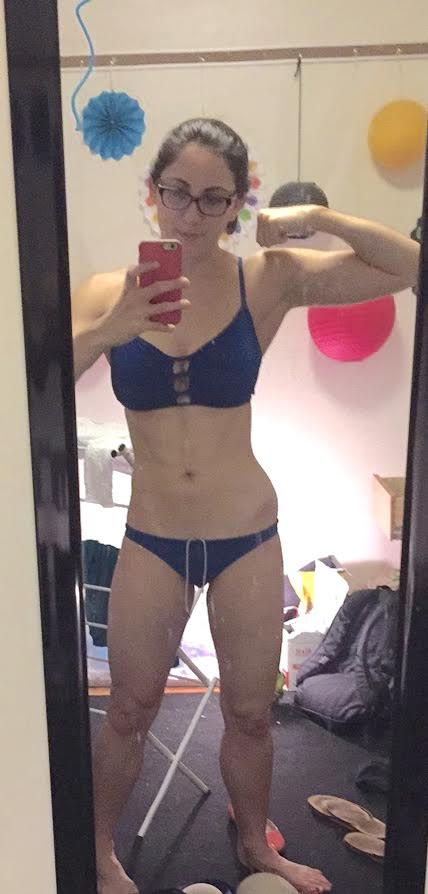 When I went back to school in August, my coach noticed a significant difference in my swimming, even with just the moderate amount of strength I had gained. I worked very hard that year to maintain my strength, training with my team twice a week and lifting for two hours on my own on Sundays, my only rest day of the week. Halfway through the season, I got my in-season time down to a 2:09, three seconds faster than it had been in-season any previous year. I got my time at championships down by about half a second to a low 2:05. And I got my team's 100 fly record by dropping a second. It was clear that strength was the difference. I was faster. Practices were easier, and I was able to maintain my speed for longer throughout the grueling 200 butterfly races. If you have never had the pleasure of swimming butterfly, let me explain how painful this race is: no matter how in shape you are, your whole body is screaming by the time you are done. Think of the most intense exercise you have ever done and hold that for over two minutes. This is a race that demands significant strength.
The summer before my senior year, I had a full-time internship an hour away from Baltimore, so I wasn't able to go to Fivex3 as often as I had the previous summer. I lifted on my own or with a friend or two at a gym at work, stopping in to Fivex3 every week or two for a form check. Now that I knew what I was doing, I was able to get my squat up to 200 lbs and my bench up to 130. I now weighed between 150-155 lbs, almost 20 pounds gained in just two years…..and I had to buy all new clothes. 😉 For the first time in my life, I had a butt and filled out my pants. I had friends comment on how muscular I was, and I became the go-to person in my family to carry anything heavy. It felt really good to be so capable. It felt even better to know how much my swimming was beginning to benefit from my new found strength.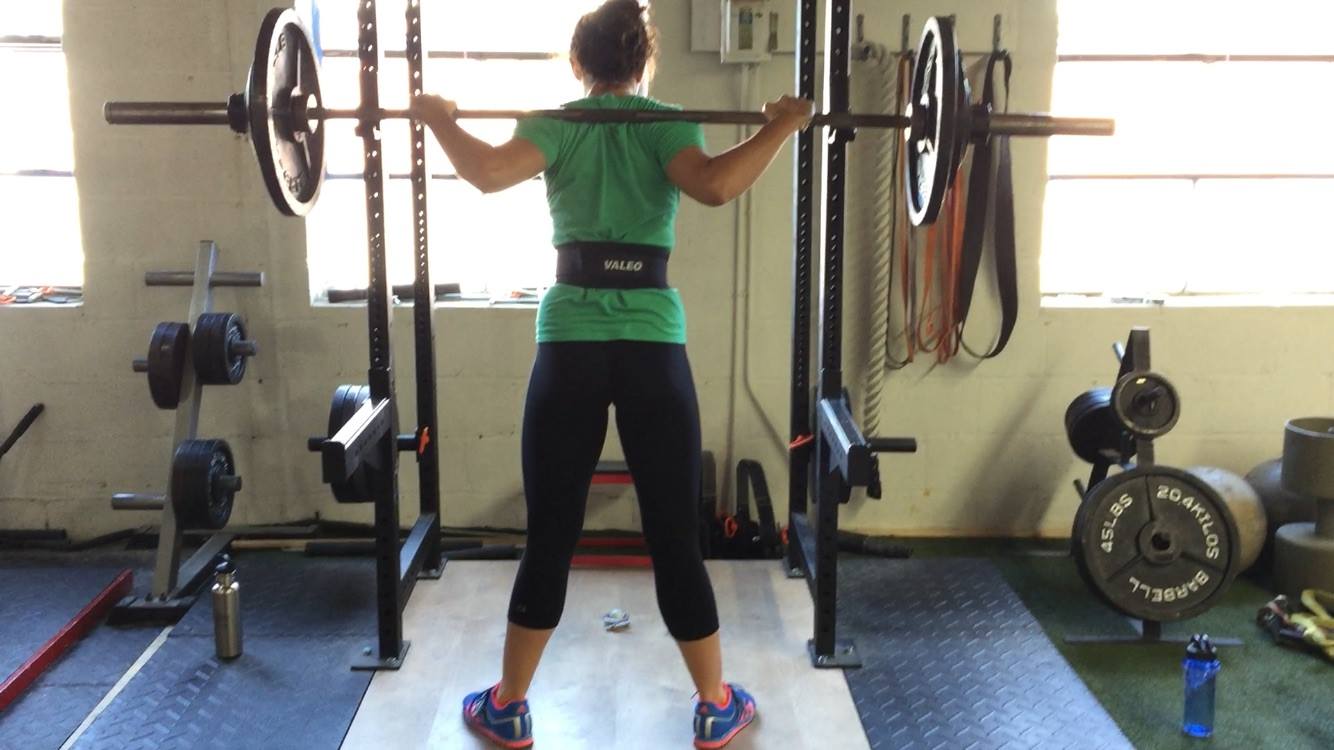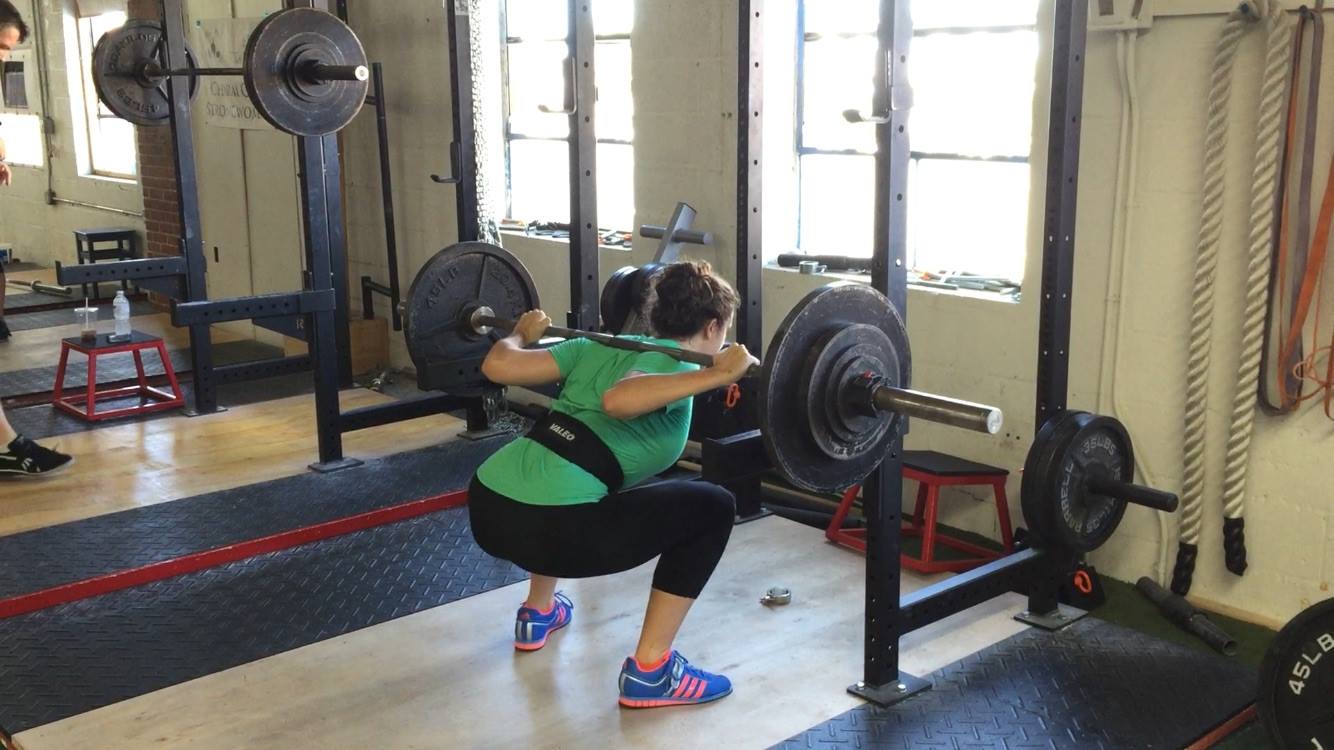 My senior year came, and I started swimming out of my mind. During the season, while swimming 6 times a week, I was able to maintain my squat around 175lbs, squatting at least once a week, and maintained my bench around 120lbs. At every single swim meet, I was holding best times around 2:09, and I was able to practice at a faster interval than previous years. At a meet in the middle of the season, one that we were able to rest a little bit more for, I got a best time in my 200 fly by 2 seconds, bringing it down to a 2:03. At one point in the season, some of my teammates assigned a super hero to everyone on the team, and I was assigned She-Hulk. I took it as a compliment. 😉 I had gotten this reputation as someone who took weight lifting very seriously, and it was finally starting to sink in with my teammates. At least three of them asked me if they could join me during my training sessions on Sundays. As a result of this, we now had a handful of girls able to squat 135lbs for the first time in my four years. And best of all, they all swam insanely fast at Championships as a result of their additional strength training.
During my freshman year, "strength training" involved a few weeks of running bleachers, a lot of bodyweight and free weight exercises and a fair amount of "core" work. But by my senior year, my coaches had finally caught on to the fact that strength training involving more of the barbell was something that we could do seriously and that it had extremely tangible benefits towards our swimming. So, instead of starting off the swimming season with the team running and then slowly transitioning into step-ups and lunges, we started off the season with squats. The culture of lifting has slowly changed in my time at my school…..in part because of me and my stubbornness to get stronger. 😉 And as a result, we currently have the fastest team that my college has ever seen.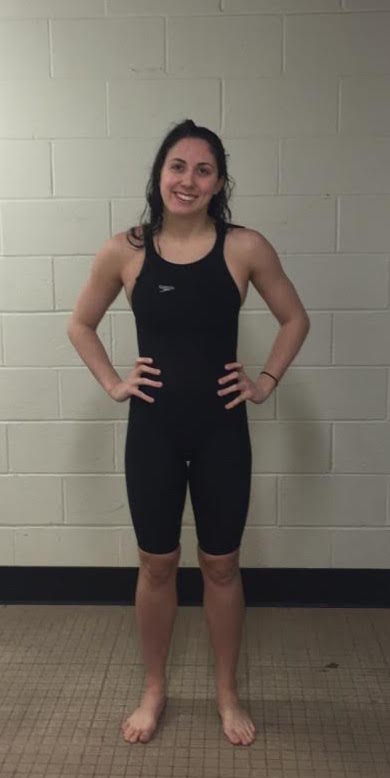 Championships this year were bitter sweet because it meant that I was finishing my 16-year journey as a swimmer. And I was determined to put my strength to good use. In a relay, I swam my 100 fly in a 54.9, a best time by a second. For comparison, the qualifying time for Olympic trials is only about a second faster than that. In high school my best time was a 58.6 and my freshman year in college I swam it in a 57. I had never been able to break 56 seconds until this year. Because of how many events I swam, 8 over the course of the four day meet, I was worn out by the 200 fly on the last day, so I didn't get a best time. But a swim that felt like a 2:09 actually wound up being a 2:04 because I was so much stronger than I had been before.
I finished my swimming career with three college team records and as the high point scorer for the girl's team. I dropped 9 seconds in my 200 fly and nearly 4seconds in my 100 fly, due entirely to my strength gains and my continuous training. I also believe that once I graduate and move on, I am leaving behind a swim team that now understands more about the need to be strong and the impact barbell training has on competitive swimming and improving life in general.
And of course, none of this would have been possible without Starting Strength or Emily, Diego, and the rest of the Fivex3 community. They have made a lifelong lifter out of me and a significantly better athlete.