We are very excited to announce the first in our series of specialty workshops.  On August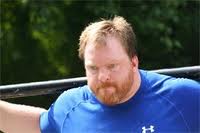 20th, we will have Mike McKenna lead a strongman /strongwoman clinic.  Mike is the owner and head coach at McKenna's Gym.  Mike is a USAW and USATF Certified Coach, a competitive Olympic lifter and strongman. Additionally, Mike is a NCAA Division 1 letter winner in Track and field (Hammer Throw) and has coached state and conference champions in wrestling and track and field. Mike's highest honors in sports include the Bronze Medal at the 2003 American Open and the 2010 Master's National Weightlifting Gold Medal.
The clinic will run from 11am until 2pm, with breaks naturally built in.  We will work on basic skills for various strongman events, including Atlas stone lifting, axle pressing, yoke and farmers walks, chain dragging, and others as time permits.
Schedule:
Intro to strongman training.
The log.
Thick bar events.
Grip/ press medley (workout).
Yoke and chain drag.
Medley finish.
Parti
cipants should bring some snacks and water.  Part of the clinic may take place outside, so plan on staying well-hydrated.  We suggest you bring work boots or hiking boots, unless you have lifting shoes, in which case you should bring those.  Any shoe with a flat and hard sole is better than sneakers.  Bring sneakers only if you have none of the above choices.  If you have a lifting belt, please bring it. Otherwise you can use one of ours. The clinic is for men and women.  All lifts and workouts will be scaled to your own level of strength.  However, competency in the basic lifts, such as squats and deadlifts is strongly recommended.
This event is limited to ten participants.  We expect the clinic to fill quickly, so send in your registration soon.  Cost for the three-hour clinic is $40 per person.  Send in your personal check with the registration form, or come in to register in person.  If you have any questions, please contact us at info@fivex3.com or call 410-205-9254.
Click here to download the registration form.