A few weeks ago, I received an email from one of my clients who inquired about a barre class that I used to teach when I worked as the school director at a dance studio. She wanted to know if I had any interest in running this class again. Here was her email:
Hi Emily,
Recently as I was cleaning my house, I came across your original brochure that had your Barre Class listed.  Today, I came across an old article on Lululemon's website about the benefits of Barre.  Would you consider bringing this class back?  I've seen a few people on LL facebook page who were inquiring about a local class. That community would LOVE it.  I know I would be there and will be a great way to market to their huge customer base.
First of all, let me say that yes, I used to teach barre classes. I am a dancer. I also taught aerobics and cycling, and I enjoyed them both very much. And I believe that any  exercise you decide to do whether it is aerobics or Barre or cycle is good exercise, and if it makes you happy, awesome. Keep doing it. BUT, I also believe that if you are not happy with your performance in the gym, your strength or your body, there are better ways for achieving your goals than the three I mentioned. Again, there is nothing wrong with these classes. Remember, I used to teach them. However, the best coaches are always questioning, researching and looking for better ways to challenge their athletes and/or clients. This may mean re-thinking exercises and training. Are barre classes good for you? Sure….but I believe there are better and more efficient ways for women to train. Would I get more business if I brought back my barre class? Sure. Maybe. But, honestly,  I don't want this kind of business. My philosophy is strength. I want women to focus on gaining strength, not "toning their thighs." I want women to focus on building a bigger deadlift, squat or press, not building "long, lean muscles" (which don't exist). I want women to be able to carry the full propane tank for their grill back to the car by themselves and not have to ask for assistance.
I want women to feel confident in their own skin. I want them to walk down the street not thinking they are strong but KNOWING that they are strong. You cannot build a strong upper body doing 100 repetitions of arm circles. You cannot build strong glutes doing 50 leg kicks to the ceiling. I don't care how much it burns. All you will do is tire your arms and your butt out. And really, what good is that? Yes, you will be sore. But you won't be any stronger. It just doesn't work that way.
But I digress. Here was my email response:
Hi,
I really enjoyed teaching my barre class when I worked for the dance studio. It was a perfect way to build a new adult class at Kinetics and as a result of the class, I realized how much I wanted to work with adults. The more the class evolved, the more I began to move away from the "ballet" type work I relied on to create the class, and I began introducing more strength work. By the time I opened Fivex3 Training, I realized what I needed to do with the class to make it fit with my message about strength. The class needed a big face lift. Basic Training was born. I could not be more happier with this class.
I have a few concerns with running a class like this is again.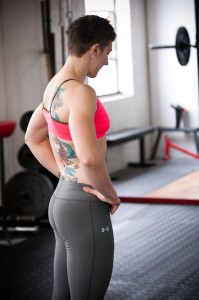 First and foremost, I do not believe in the message these classes promote. The classes rely on tiny weights and there is too much emphasis on "looking" like a ballerina and trying to achieve a body that for some people will never exist. (Professional ballerinas look the way they do because they are genetically born with a body that enables them to look the way they do. I, too, studied ballet, but I do not have the body to be a professional ballerina. Am I less of a dancer for this? NO.)
Second, I believe, as many other women who strength train believe and who are in my field, that women need more than what a barre class offers. Women do not need special classes like barre because they are women and they should "train this way because this is how a woman should train." Doing tiny little pulses until your thighs burn does nothing but make your thighs burn. So what? As my husband said, "My butt would burn too if you made me squeeze it 100 times. But it won't help me develop a strong butt."  You will not build a strong body unless you stress the body ie. lift weights that are more than 5 pounds. No one is telling you that you need to lift 200 lbs (although this is damn impressive and shows true strength and domination.) But 5lbs? Come on. My five year old nephew deadlifted his bodyweight just the other day. With the barbell. 44 pounds. Exactly how much he weighs. And he carried two 8kg kettlebells around the gym (18 pounds) without a second thought. I had two 8 year old girls pull each other on the sled two weeks ago. They loved every minute of it. And most recently, one of my clients who just turned 73 years old, deadlifted 80 lbs and then proceeded to do a frame carry with the same weight. Is she strong? Hell yes. Is she toned? Who cares! She's 73 years old, just started strength training about four months ago and picked up 80lbs!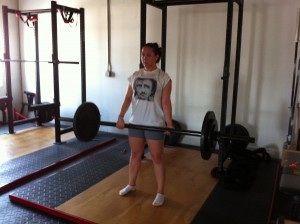 And third, these classes promote false advertising claims such as "Lifts your seat, tones your thighs and burns fat,"  "Firms and elongates muscles," "Get long, narrow thighs," "Longer, leaner and stronger muscles," "Combines Pilates, yoga and ballet moves to give you beautiful, sculpted, lean muscles – without the impact and injuries dancers endure." These are false claims and as a dancer who does lift weight and has seen her body change in ways she never thought was possible, I am tired of seeing these words used over and over again to lure women into these classes. Ladies, you either have long muscles or short muscles, depending on how TALL or how SHORT you are. Blame your parents if you want to blame someone. It is all genetic.  Someone with long femurs will have long muscles. Someone with short femurs will have short muscles. Your muscles will not get longer if you are not tall. Tall people have long bones and therefore long muscles. Short people have short bones and therefore short muscles. If you want to be leaner, lose the body fat. And also, please don't think that by stretching a muscle after you have worked it, you will make it longer or leaner. *Sigh*
When I taught my classes, I was just beginning my journey into the strength world. I was training at the gym and teaching these classes. And I was feeling stronger and stronger each time I taught my classes thanks to all the squatting, deadlifting and pressing I was doing at the gym. But I soon realized this class could not survive anymore. I do not regret one minute for this class- I loved teaching it and quite a few of the people who started with me with this class, followed me to Baltimore when I opened up my gym. And they love my Basic Training class just as much if not more than my barre class. And because of the way I promoted my barre class way back then (build strength), I actually attracted people ages 40 and up. No one under 30 (with the exception of one or two) took my class. I made a point of promoting strength. If I had had more equipment as I do now, I probably would have taught it differently.
What I love about all the coaches I read and listen to is they are never afraid to say "I changed my mind. I have discovered a better way to do this." As Mike Boyle, a strength and conditioning coach at Mike Boyle's Strength and Conditioning in MA says, "I think I've become famous for changing my mind. And there's a specific reason *why* the most successful coaches and trainers in our field tend to change their minds the most often. (and also why your athletes benefit from this 'change')." This is how I feel about barre classes and why I have changed my mind about this type of work. I actually never even thought about this that much until now because all I was really trying to do was come up with a new adult fitness class at the dance studio. Over the past two years, I have learned so much more about strength work and the benefits of barbell training. My philosophy is simple: Get strong. This is how I want to train and why I believe women should train this way too. While I know that I could reach more women if I offered this type of class, I do not want to compromise my beliefs when it comes to strength training. In my opinion, women need less of these classes and more good all fashioned basic strength work. They need to build muscle, not "elongate" it. They need to learn how to use their bodies efficiently by carrying weight, dragging weight, picking up weight, not worrying about developing "long, lean muscles."

I am sure that there are many women who want to take these classes because of what the classes  promise. I am sure many take them because the classes are familiar to them because they remind them of  ballet classes they took when they were younger. And I am sure that these women do see changes in their bodies because anything will work…for a time. But I will never bring this type of class back. As my mission statement reads on  my website, "At FiveX3 Training, strength is our mission. When you are stronger, you feel better. When you are stronger, you look better. When you are stronger, you are better." Lift weights. Get strong. Feel better.
Emily