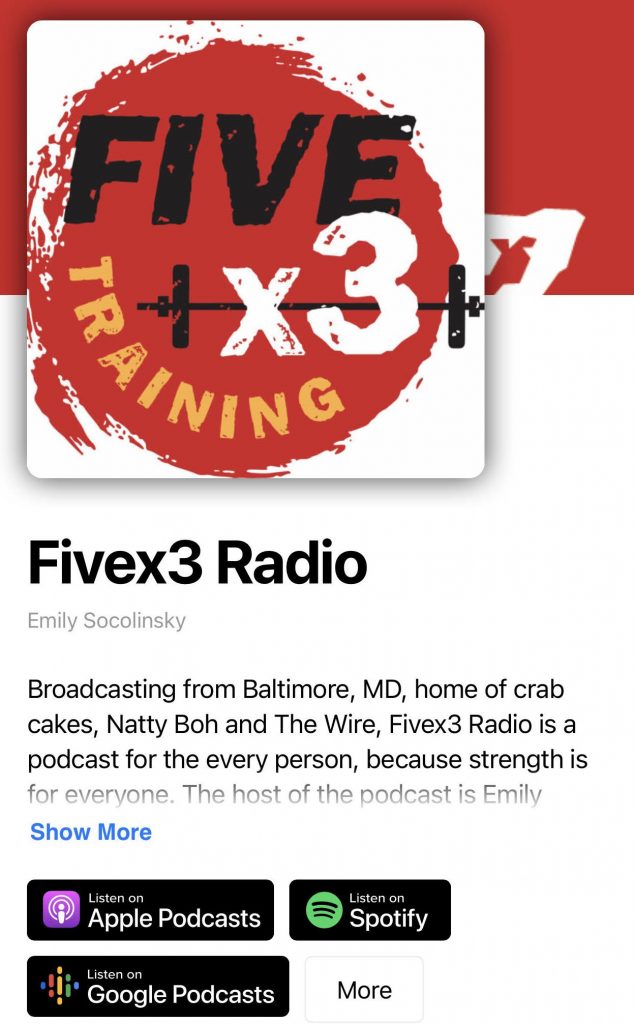 If you didn't already know, Fivex3 has a podcast!!! We started this podcast in May of 2020, when the world changed for so many people. We have been going STRONG ever since.
Broadcasting from Baltimore, MD, home of crab cakes, Natty Boh and The Wire, Fivex3 Radio is a podcast for the every person, because strength is for everyone. The host of the podcast is Emily Socolinsky, owner of Fivex3 Training, a strength and conditioning gym in Baltimore, along with one of her coaches, Rebecca Fishburne. Each week, Rebecca and Emily will discuss the ins and outs of strength training, why there is a no one size fits all approach, and why strength is so important in your daily life.
Emily has been a Starting Strength Coach since 2010 and has owned and operated Fivex3 Training for the past 9 years. Emily was active as a professional dancer and teacher for over 20 years. During that time, she focused on strength training and a variety of cross-training methods that helped her grow and develop as a dancer and athlete. Her website is www.fivex3.com. Rebecca has been a Starting Strength Coach since 2018. She became a personal trainer in 2008 and has been working with people under the bar since 2016. Her website is www.cornerstonestrengthmaryland.com. She works with individuals in person and online.
You can find us on Spotify, iTunes, Apple Podcasts, Google Podcasts, Amazon Music, Podcast Addict and Pocket Casts! Soon to be on iHeart Radio!