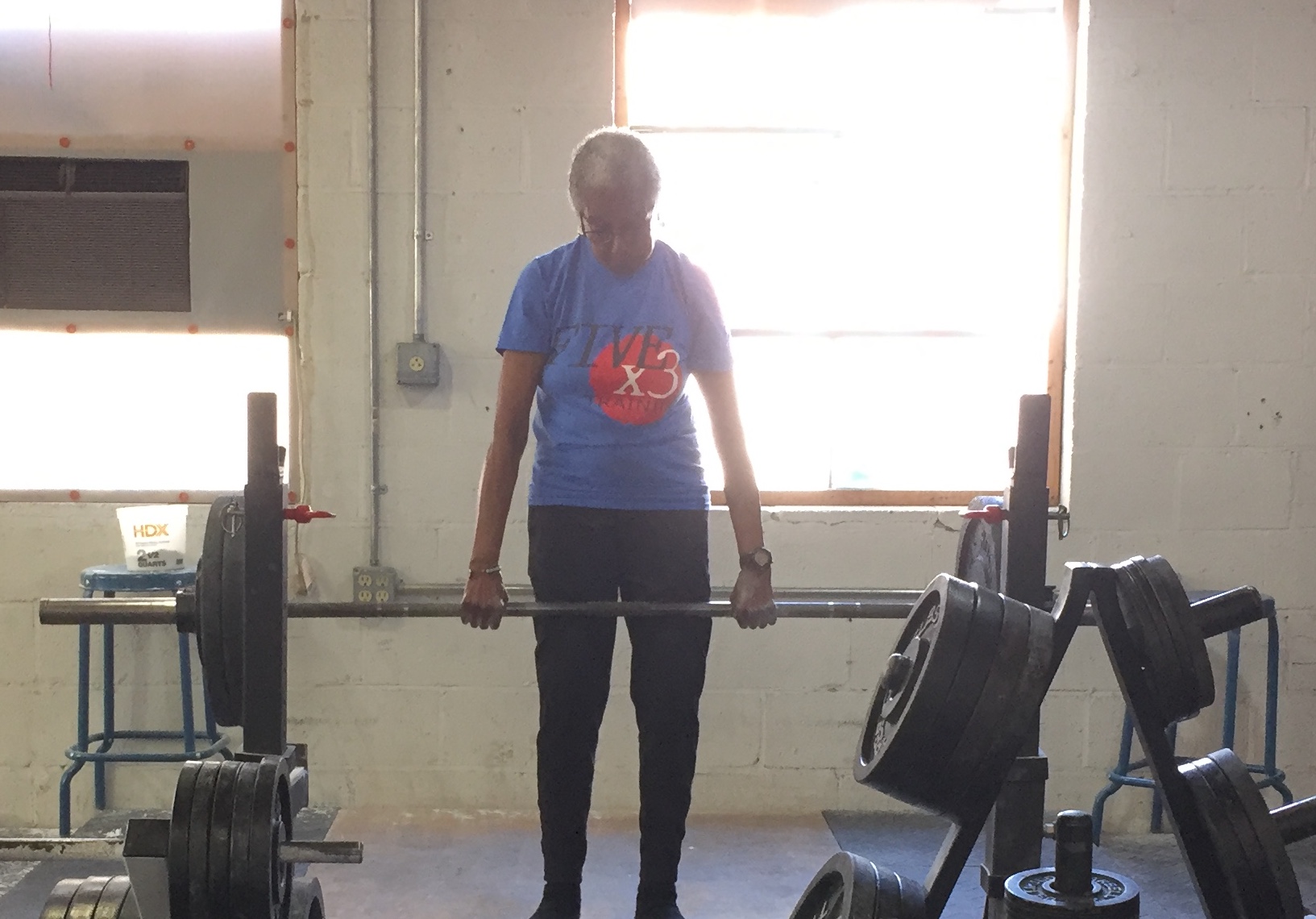 Anita started training at my gym in June of 2017. Her daughter, Susan, has been a member of Fivex3 since about 2012. Anita and I actually go back 20 years, when I was working as the Wardrobe Supervisor at Center Stage, a theater company here in Baltimore. Anita has been a volunteer at local theatre companies here in Baltimore for over 20 years. She is very, very active, volunteering at Center Stage, Everyman Theatre and the aquarium. She and Susan travel a couple times a year on various bus trips too. She is like the energizer bunny. 😉 She just keeps going and going and going…..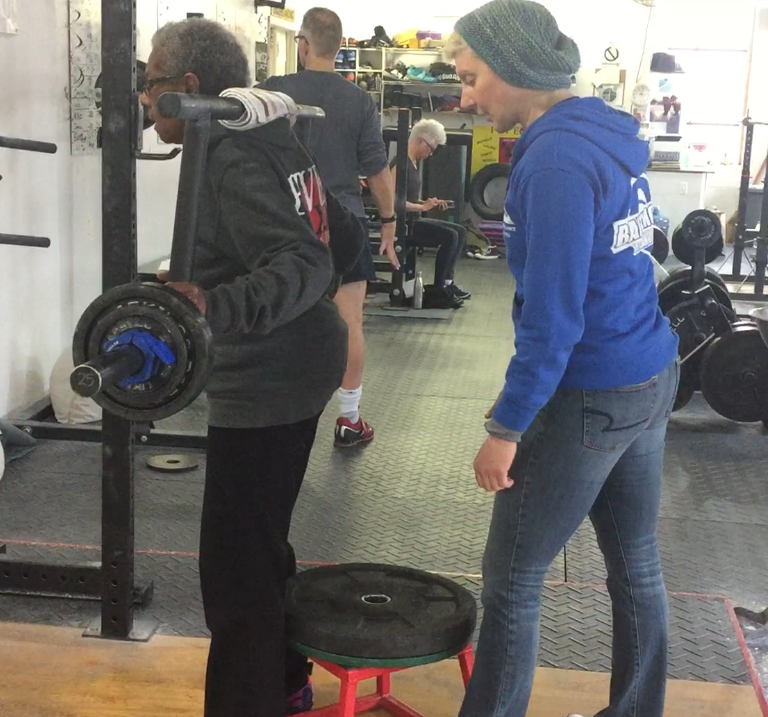 However, about a year ago, Anita's knee started to bother her. She went to the doctor and had it checked out. There was a slight tear in the meniscus but not enough to need surgery. She started physical therapy and after about two months or so, was released from PT.  They didn't give her any guidelines as to what to do now that she was done with physical therapy except to just keep doing the exercises she had been doing at PT. That's when Susan decided it was time for her to start at Fivex3.
We started slowly and decided that Anita would continue with some of her PT exercises as well as learn how to squat and deadlift.  We went over her exercises and when I told her to lie down on the ground, she looked confused. She asked me why. I told her I wanted to see how she performed her PT work. She said that she always did her PT exercises on her bed. She told me she never had a reason to lie down on the floor and at therapy, she always did them on a table. And what would happen if she got down but could not get back up? So guess what we did? We added my Get Down/Get Up skill (simply getting to the floor and getting back up) into her program so she knew that she could get up. Now, it's second nature to her. 😉
Anita learned how to squat. She started with an 18″ box and once that got easy, we worked her down to a lower box. Once bodyweight was easy, we added a 8 lb medicine ball. Once she was squatting with a 25lb dumbbell, we added the cambered bar (due to shoulder limitations, she cannot use a straight bar). Now she is squatting 75lbsfor reps.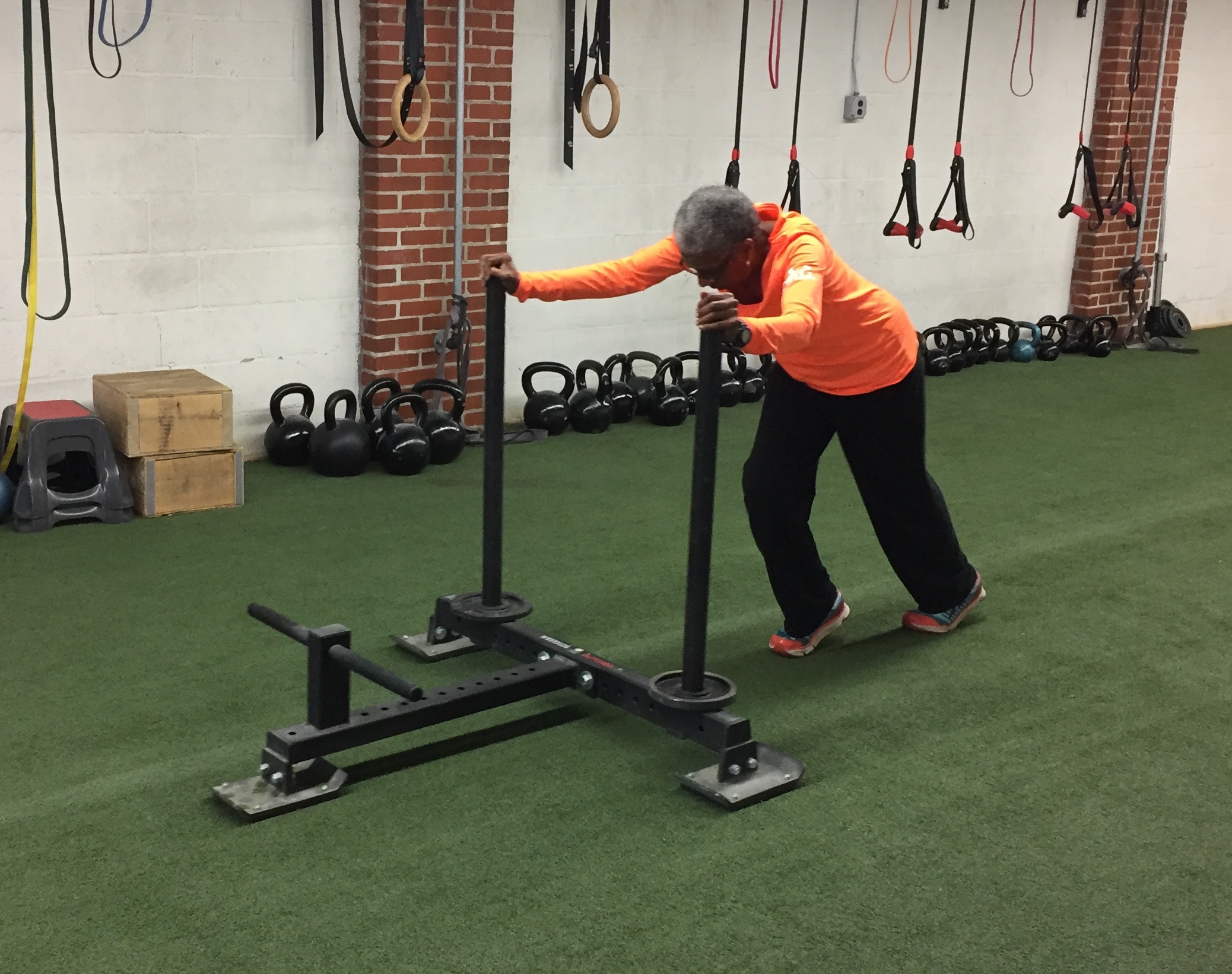 Anita also learned how to deadlift, beginning with 35lbs on her first day. A year later, she deadlifted 135lbs, a year to the day when she first started with us. It is also a bodyweight deadlift. 😉 For a 77 year old woman who had never touched a barbell in her life until she started with us last year, this is quite an accomplishment. Anita is now regularly squatting, deadlifting in the mid 100's, doing push ups, rows and just begun incorporating some conditioning using the prowler and the sled.  She has accomplished  A LOT in just one year. Most important, she is stronger and more able.
 Now, I will let Anita tell you her story. 😉