We are thrilled to announce our next special event:  A Charm City Strongwoman Contest!
The contest will take place on Sunday, August 19 from 10 – whenever. There will be three competition classes: Fun (beginner level), Advanced (exercise/ strength train regularly), and Pro (two classes: lightweight (under 150) and heavyweight)
(n.b. The meet directors reserve the right to move you from class to class based on their discretion the day of the event.)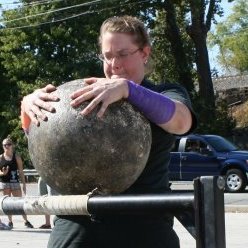 The events for the contest are as follows:
Weight for height: Fun Class throws 15lbs medicine ball; Advanced and Pro throw an empty beer keg
Log Clean and Press (max reps in 60 seconds): (Fun: 55# Swiss Bar, Advanced: 85 pound, 10" log; Pro 115 pound 10" log)
Axle Deadlift (Rogue Axle) Max Weight: (Fun Class starts at 115 pounds, Advanced at 185, Pro at 225)
Medley: Farmer's Walk + Carry+Drag over a 50 foot course: (Fun: 75 pounds per hand, 32 kg kb, 95 pound chain; Advanced 115 per hand+ 110 cambered bar/Zercher carry+100 lbs sled w/ 95 pound chain), Pro 150 pounds per hand, 150 pound sandbag, 200 pound sled w/95 pound chain)
Stone Over Bar (as many reps as possible in 90 seconds): Fun Class 65 pound stone over 36" bar; Advanced 135 pound Stone over 36" bar; pro 185 pound stone over 42 inch bar
All entrants will receive a meet T-Shirt. Awards will be given to the winner of each division (four awards: 1st place fun, advanced, lightweight pro, heavyweight pro)
The entry fee is $40 and all proceeds benefit the Susan Cohan Colon Cancer Foundation for prevention and research.  Please contact Fivex3 training or Emily Socolinsky at emily@fivex3.com for details. Please make all checks payable to Fivx3 Training LLC.