Please join us on Sunday, December 18 from 1-4pm for our first Fivex3 Training Holiday party and Feats of Strength! We will celebrate our first five months open with an afternoon of strength challenges! Food, drink and a few sled drags to round out the day! Admission is FREE but we would love it if you would bring a no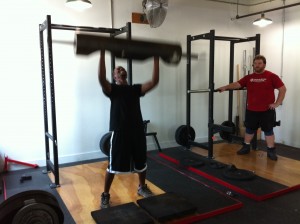 n-perishable food item for the Maryland Food Bank. Bring your friends, your family and your children! All are welcome!!!
Strength Events:
One arm dumbbell press
2" axle clean and press
2" Axle Deadlift
Sled drags
Sandbag over bar
Farmer walks
Prizes will be given to the person who shows the best sense of humor while lifting heavy things! 🙂
Happy Holidays everyone!