On Sunday, October 30, 2011, 16 people braved the chilly morning to join Shauna Harrison and myself for a Muscle and Flow/Basic Training Specialty workshop to benefit the Susan Cohan Colon Cancer  Foundation at Fivex3 Training. Unfortunately, the heat decided NOT to work that morning (ugh!), but no one seemed to care! Everyone came bundled up and layered from head to toe, all smiles and ready to sweat! And sweat they did!
Shauna's Muscle and Flow Yoga class was first on the schedule. Once everyone was situated with their mats and water bottles, introductions were made and everyone got into child's pose. After a few good, deep breaths, Shauna immediately took everyone through the beginning of sun salutation. Down dog to Chaturanga to up do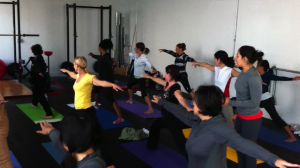 g, back to down dog. Over and over. Before you knew it, hats, sweatshirts and socks started to come off. You could feel the heat rising. Sighs, a few groans, laughter and smiles filled the room. The speakers pumped the sounds of classic R&B/Rap/Hip Hop and the voices of Lauren Hill and Janet Jackson whispered in our ears. During the class, Shauna walked quietly around the room, pausing to speak softly to someone or correct a position, while the participants held their poses, quietly cursing her name if it was a more difficult position! "Let's hold that pose a little longer," she said every now and then. More soft groans, then laughter.  "This is a strength gym," she reminded everyone.  And just when they thought they were done, Shauna reminded them that they all had abs. After a grueling five minutes of "Shauna hard core work," everyone threw on their sweats and socks and lay down for a brief Shavasana. Quiet filled the room.  A few minutes later, the music returned.  "Wiggle your toes, your fingers and come back to life," Shauna said quietly. "Thank you for coming today everyone," Shauna said. "Namaste." "Namaste," everyone replied followed by applause.
Within 10 minutes, folks were back at it in my Basic Training class,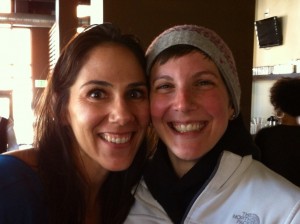 beginning first with a nice dynamic warm-up including arm circles, squat stand, walk outs, spider stretches, speed skaters and leg swings. We quickly moved on to bird dogs and plank work followed by a series of goblet squats, push ups, band pulls and split squats. Mountain climbers and inch worms rounded out the program and kept everyone on their toes! A nice stretch followed the class and everyone enjoyed some delicious wraps and Jasmine tea after the class, courtesy of Teavolve Cafe and Lounge.
Thanks to everyone who registered for the workshop, we were able to raise $300.00 to benefit the Susan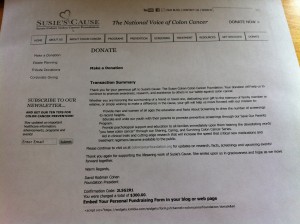 Cohan Colon Cancer Foundation, a local foundation right here in Maryland. If you would like to learn more about this organization, you can click here. – www.coloncancerfoundation.org. You can also follow them on Facebook.
Thank you to Shauna, Teavolve Cafe and Lounge and everyone who came out to work! We hope to see you at our next workshop soon!