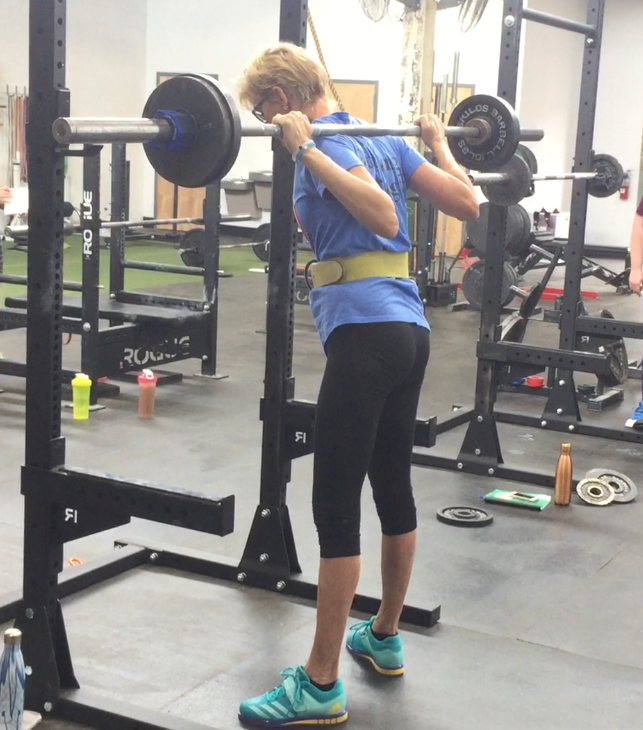 Jen joined us the end of December 2017. Her daughter, Sally, trained with us during the summer of 2016 and encouraged her mother to start working with us a year ago. Jen put it off until the end of 2017 (a decision she says she now regrets.) I could tell she was hooked by the third session. Her log book was color coded. And immaculate. This is the school teacher in her but it also demonstrated her passion for training. She bought the book, Starting Strength. She started watching all the YouTube videos. She was hooked. And at 6′, 129lbs, she needed to start this program. Jen has been teacher for over 30 years. She loves teaching….and she now uses what she  learned in the weight room to help encourage her own students. At our gym, she is the student and her passion for learning and challenging herself does not go unnoticed. We have many, many talks about how much this program has changed her life, how she now has something she can share with both of her daughters, how her husband started training too (at a Starting Strength gym in Westminster), how she cannot see her life without this type of training. If there was ever a spokesperson for this program, Jen Trout would be that one person. Her enthusiasm is addictive. When she smiles,  you cannot help but smile with her. She knows everyone at the gym because she makes a point to get to know everyone. I don't think I have ever seen her NOT smile when she is here. This place is her home away from home. It is her happy place. It is a huge part of her life now. I will let Jen tell you the rest. 😉  Here is her story:
I've taken aerobics classes, Zumba and Pilates, along with running on the treadmill, using the elliptical, dumbbells,  and walking the dog everyday. I've gone to a local gym a few times. These classes and the gym were fun, but I always felt something was missing…..that there was more that I could do. We've always been active as a family (biking, skiing, playing outside, hiking), so I thought I was getting enough exercise to stay healthy.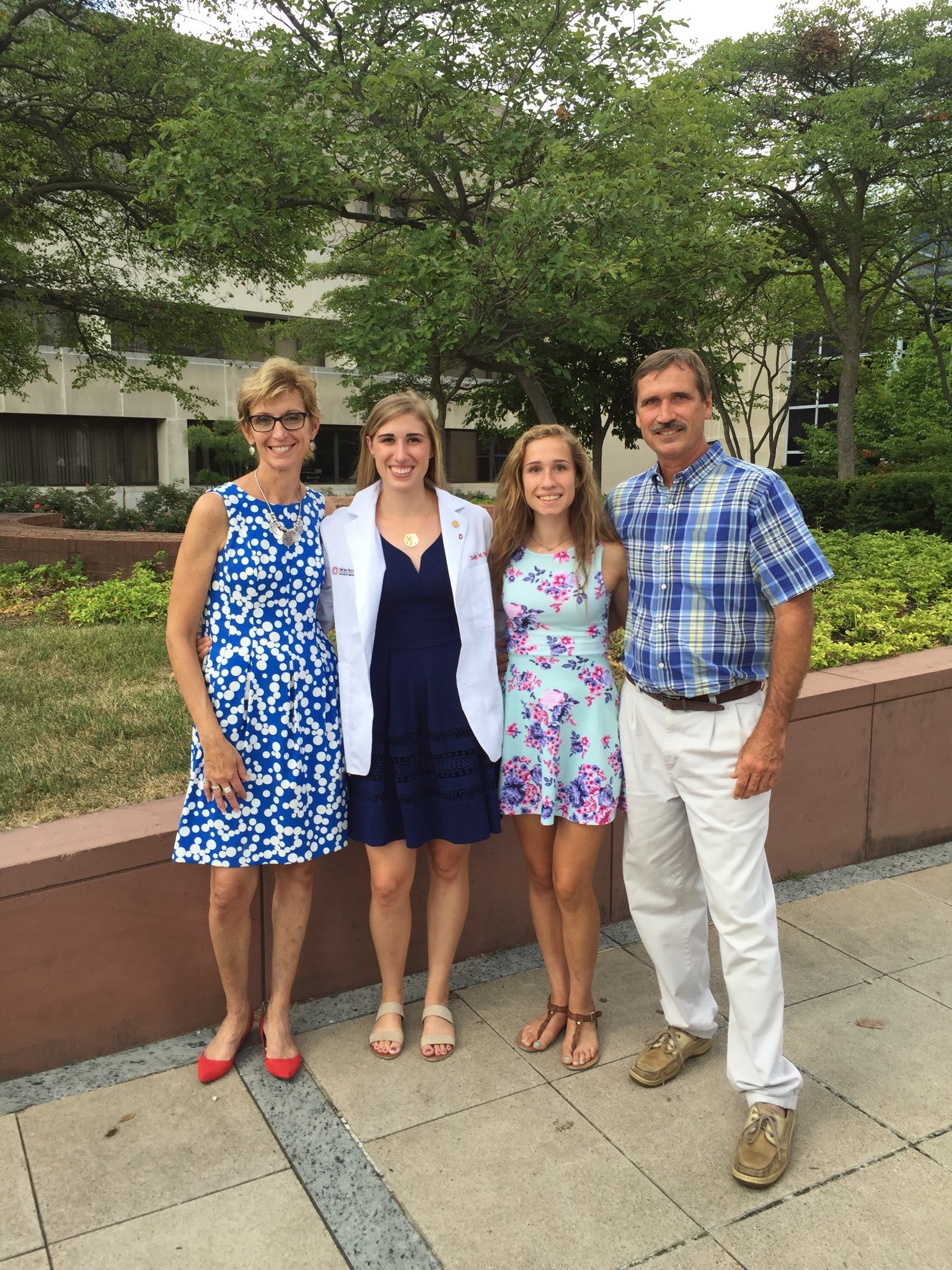 My daughter, Sally, trained at Fivex3 during the summer 0f 2016.  Her roommate from college and good friend, Jackie, had trained with Emily in the summer of 2014 and returned the following summer to train with her again before her senior year of college. She encouraged Sally to make the trip from Pennsylvania to Fivex3 in 2016 and Sally, too, became hooked.  Lat summer, Sally bugged me to give it a try.  And honestly, although I did think about it, I also thought "I do not have the time to drive almost an hour during the week and the weekends were busy with college hockey games for my younger daughter…"  and so, I put it off. Until this past year when Sally, my soon-to-be-doctor-daughter, once again reminded me that I was a prime candidate for osteoporosis (age, body type, family history). ;( Thanks Sally!! Of course, I, too, wanted to avoid that as much as I could.  My recent bone scan was great, and my plan was to keep it that way.  I also wanted to have more energy and to literally be stronger.  I witnessed how my daughter gained her strength and mobility back after hip surgery and how much she loved training with Emily……so, this past December, I decided I would start barbell training.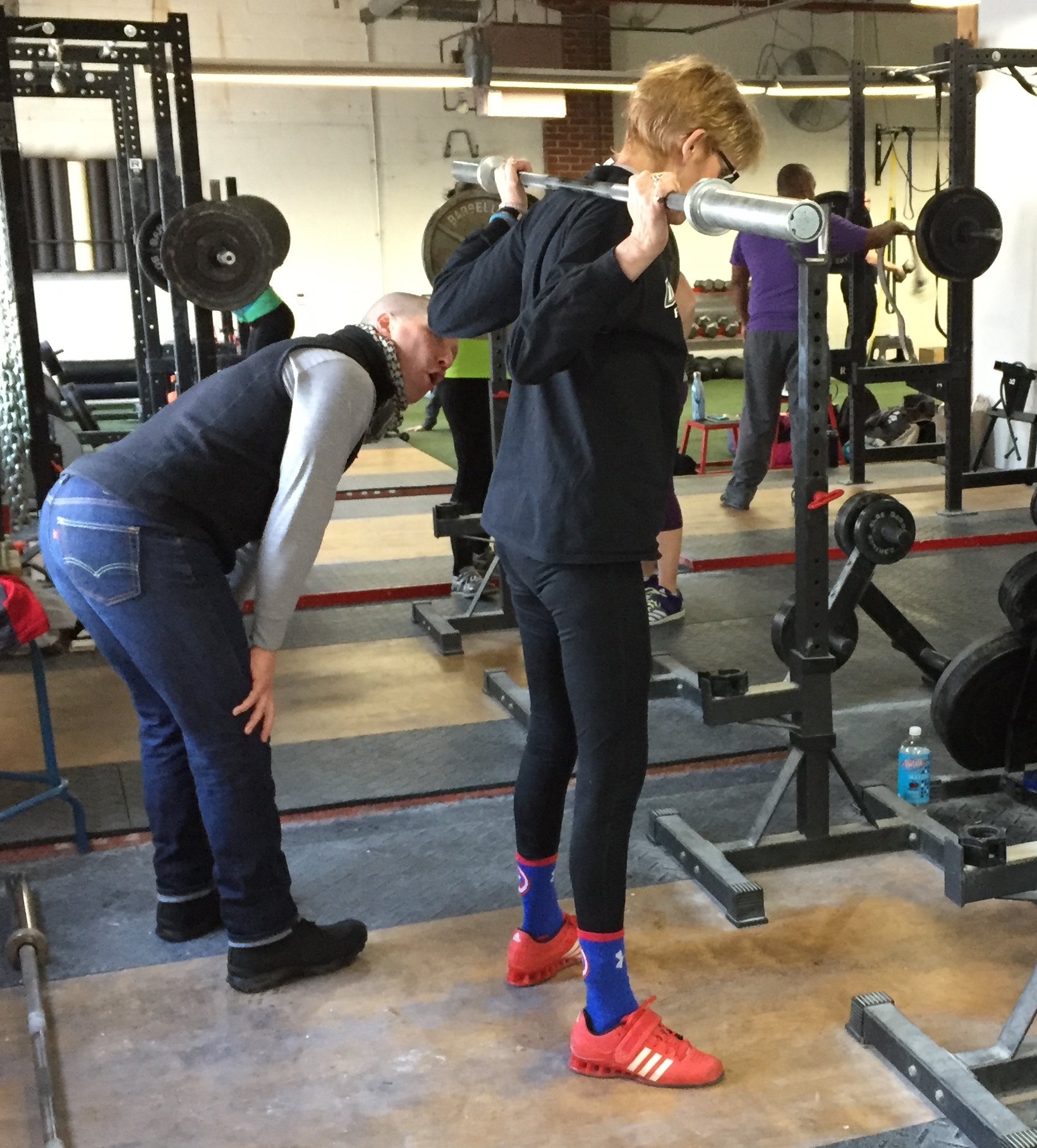 I had my first training session on December 30, 2017 with Diego and their intern, Rebecca.  Was I intimidated? Most definitely…until I met everyone at Fivex3.  My first session was very challenging.  I had never squatted, benched, or deadlifted before. Ever. On my first day, I squatted 25lbs. With imperfect form. It was really really hard. Then they taught me how to press and then the deadlift. I left that day sore and tired. And, what happened, you may ask? Did I come back?  Absolutely!  Even though it was new, even though it was really hard, even though I was really sore, I came back. For my second session. For my third session. And, nine months later, I am still here. What I felt that was missing with all of the other "exercises," I found in strength training.  I bought the Starting Strength book by Mark Rippetoe.  The science and the physiology made sense to me.  Between my training sessions, I read the chapters on squatting, benching, and deadlifting.  I watched the videos on the Starting Strength website. I taught some of my students at school the correct form for squatting.  Instead of just guessing how I could be stronger and more active, I learned the correct form and purpose for each of the strength training lifts.  I was hooked.  Nine months later, I'm still hooked.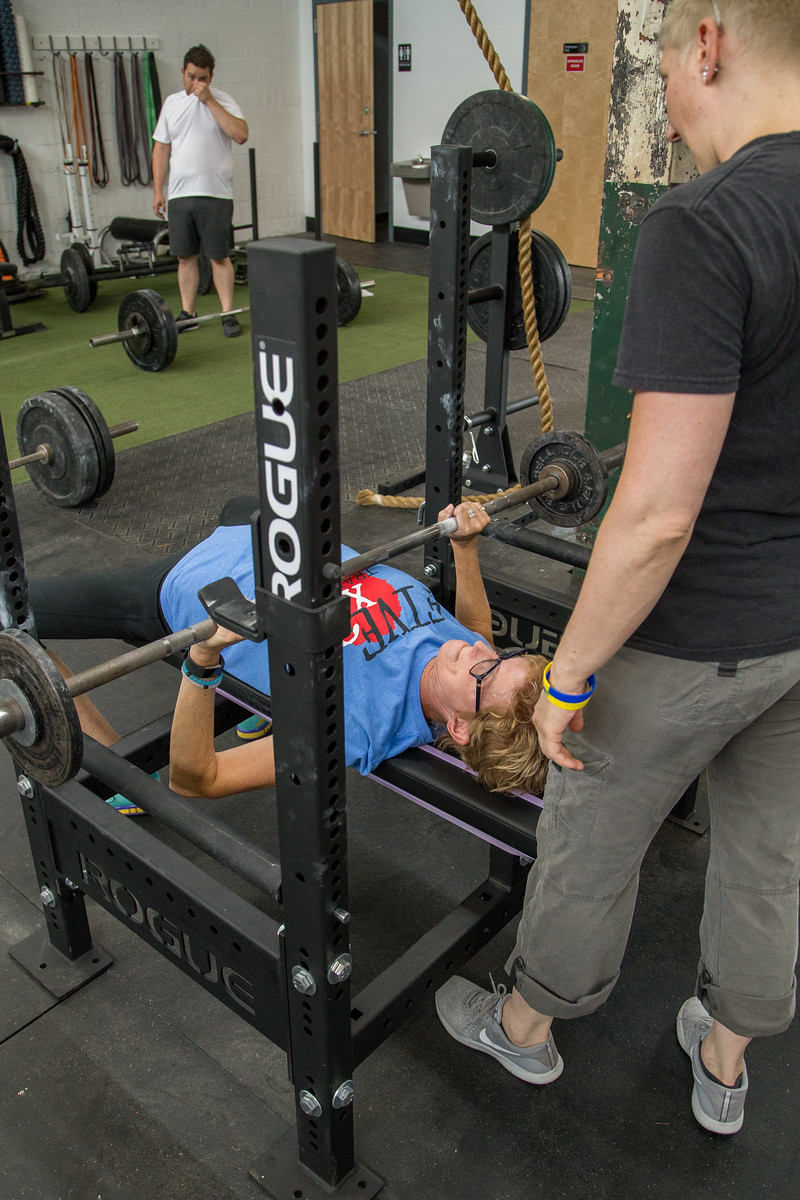 In addition to learning how to squat and bench properly, I have also learned that an integral part of strength training is also nutrition.  Eating healthy has always been important for my family, but I never really thought about the balance with enough protein.  Keeping a food journal for a few weeks helped tremendously.  Meal planning for the week has also been helpful.  I'm eating way more than I did 8 months ago and I've gained weight (which is a good thing!!!), and most importantly, I am stronger. At 6′ tall, I am all legs and arms. When I first began training, I weighed 129lbs. I now weigh around 142lbs, 13 pounds more than when I started in January. And I am still gaining. 😉 My goal is to weight at least 150lbs. At least, that is what Diego says I should weigh!! 😉

Remember when I said I put off training last year because I did not think I would have enough time as the commute is about a 45 minute drive each way???? Well, that was never even an issue once I started. Yes, I drive about 45-50 minutes to the gym, but I actually feel like I have MORE time, not less.  I have so much more energy during the day (even after a day of teaching), and the fun things I do seem easier (hiking, kayaking, walking the dog, exploring new places).  I sleep way better at night…sometimes because my muscles are so tired, but also because my day as been full of activity, and the strength training is a great way to get rid of the stress of the day. I find that I pick things up the way I bend to deadlift or when I squat down to work with students at school, my stance looks like when I squat. And I definitely find that the way I carry myself is straighter, taller, more confident.  I stand a great deal of my day at school, and my back no longer gets so tired. Even driving in the car (to and from the gym or to and from hockey games), my back, shoulders and neck don't get as tired anymore. When I first started strength training, I was training twice a week – for about 5 months. Now I come 3 times a week, which is really great. My average everyday activity level is the same as before I began strength training – it's just easier and more fun now – more duration and intensity.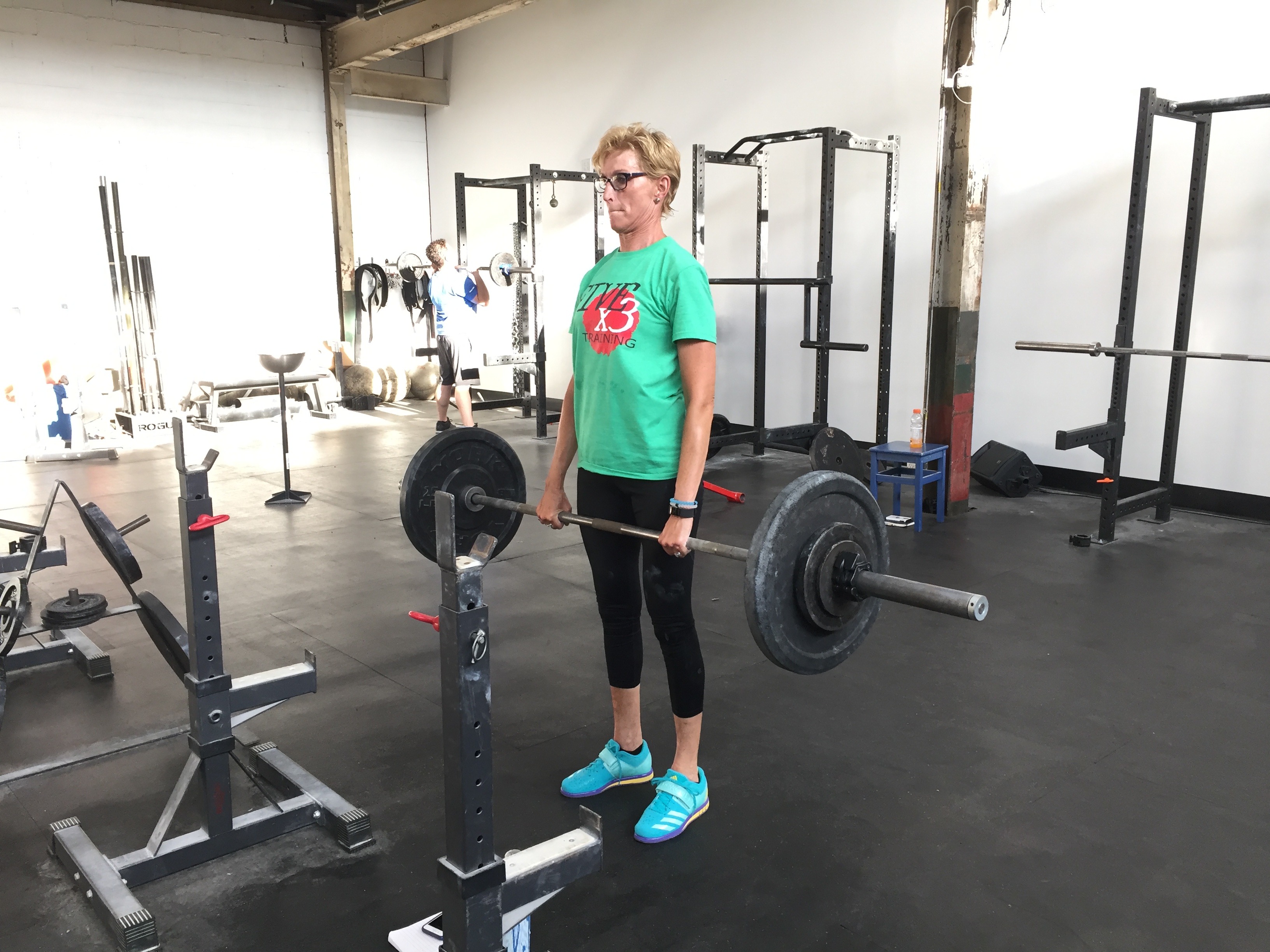 I usually talk with Sally on the way home from training.  The first words out of my mouth are usually, "Do you know how much I love this?"  Her response is that she told me I would and then asks me why it took me so long to get started.  Thinking back, I truly do wish I would have started strength training in the summer of 2016 instead of at the end of 2017. I love the whole balance between nutrition, strength training, seeing my progress, feeling healthier and stronger, and more confident. This past summer, my younger daughter, Lydia, came with me to the gym to train. She plays field hockey in college and she, too, wanted to spend time this summer getting stronger and learning better technique. It was really great to train with her and share this experience with both my daughters. Our conversations to and from the gym would be about each other's progress and techniques.   Even my husband decided to start strength training and joined Westminster Strength and Conditioning, another Starting Strength Gym, in April (it's close to where he works), so between my girls and my husband, we have lots of conversations about squatting, benching, pressing, and dead lifting!!!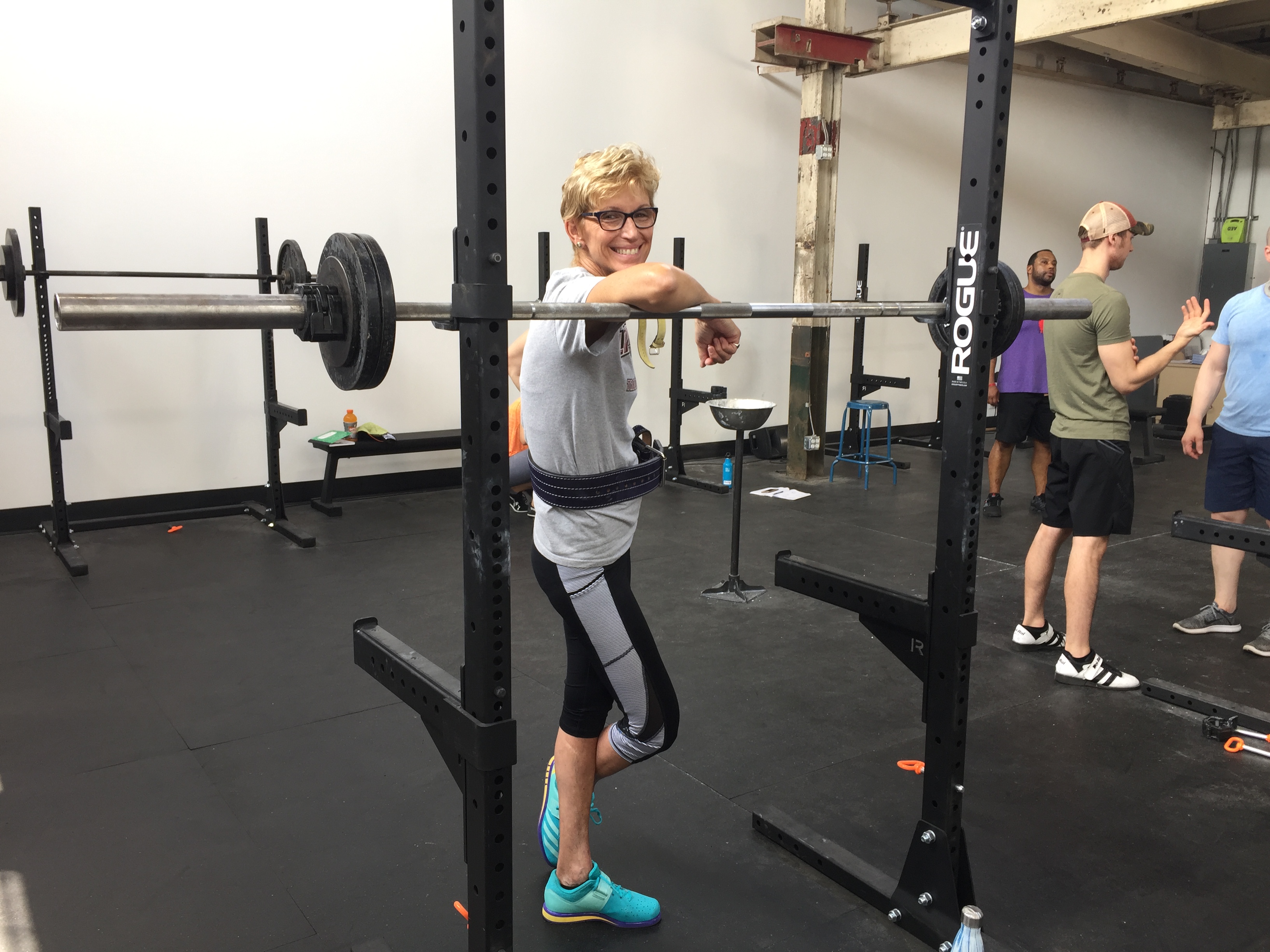 The camaraderie, the encouragement, and the fun we have at the gym is what I love, too. It doesn't matter if someone is lifting 100 pounds or 400 pounds. Everyone is there to encourage each other…starting with Emily and Diego. I love knowing that if any of my lifts need to be tweaked, that will happen.  If I need someone to spot me on my bench, it's never an inconvenience.  If I want to check that my hips are in the right spot with my deadlift position, I'll get an honest answer. We're all there for the same reason.   Just the other day, someone said, "If you're having a rough day, deadlift.  Deadlifting makes everything better.
If you had told me a year ago, that I would be driving to Baltimore for strength training three times a week, I would have thought that you were crazy.  Now, I can't imagine my life without it!  A huge thank you to Sally for getting me there, and a huge thank you to Emily for keeping me there!  Driving to Baltimore, getting stronger, feeling better – totally worth it!
And a side note, I just found out that my daughter had a bet with Jackie to see if I would even go back after my first session!! Jackie bet yes. Sally bet no. Glad I could prove my daughter wrong!!!! 😉