We have some amazing sponsors this year!
Please make sure to check them out and thank them for their sponsorship!!!! 😉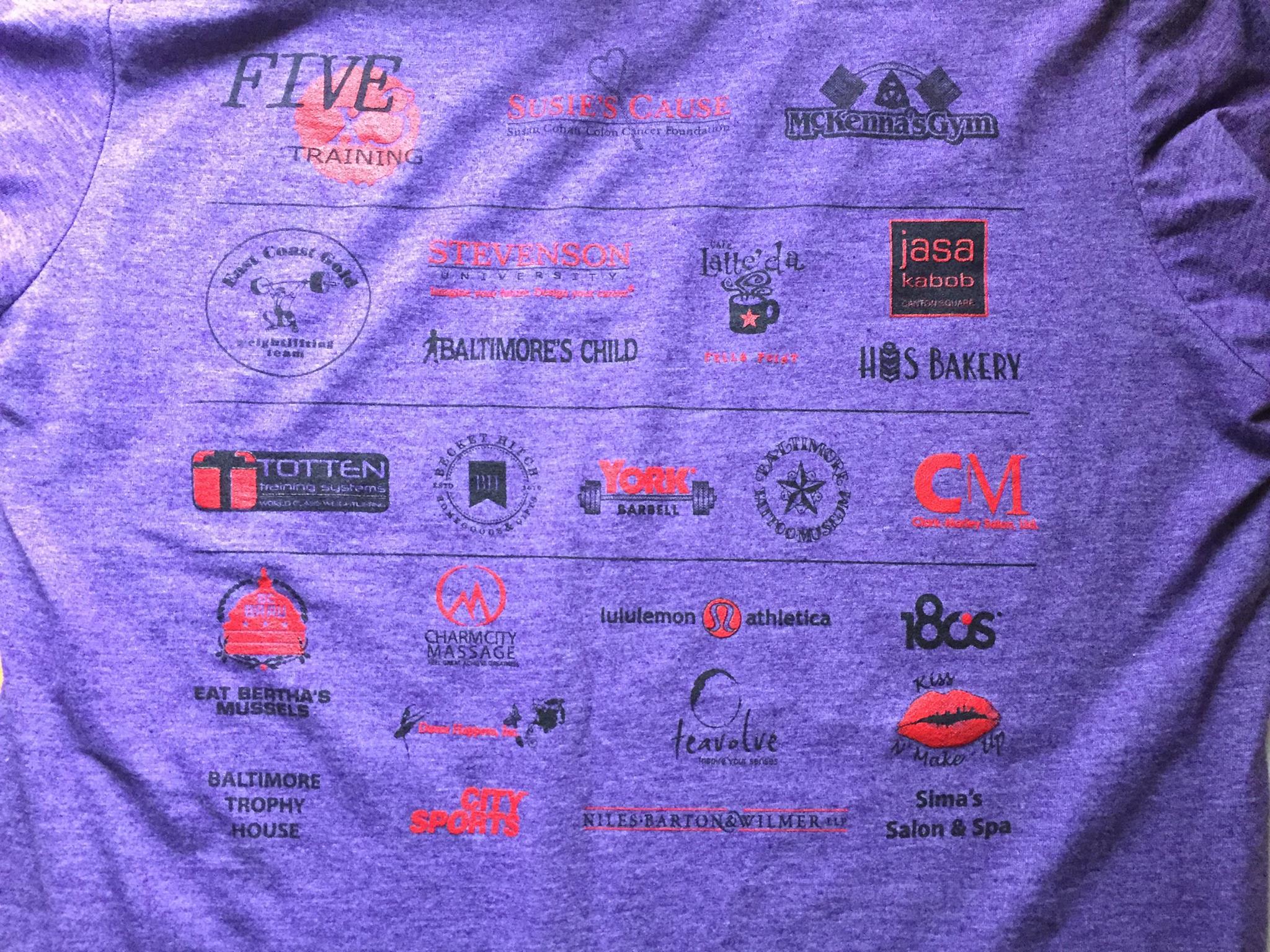 Meet our 2017 Charm City Strongwoman Sponsors!!! 
Platinum Sponsors ($500 Sponsorship)
East Coast Gold Weightlifting/Mary Hyder
Gold Sponsors ($300 Sponsorship)
Silver Sponsors ($200 Sponsorship)
Bronze Sponsors ($100 Sponsorship)
Dance Happens (a FREE dance program in Baltimore City)
Swag Bag Sponsors/Gift cards/Baskets/Awards
We will continue to acknowledge them on our Facebook page and website, Twitter, etc. They are awesome! 
Fundraising for the Susan Cohan Colon Cancer Foundation
As you all know, this contest is a fundraiser for the Susan Cohan Colon Cancer Foundation, Susie's Cause, a non-profit organization in Baltimore, which works to eliminate colon cancer through the development and dissemination of educational programs focused on prevention, early screening and detection, and aggressive therapeutic intervention. The foundation's innovative outreach programs have touched thousands of lives and led to significant increases in colon cancer screenings. The President of the Foundation, David Rodman Cohan, an international business attorney, vigorously launched this foundation after the tragic loss of his daughter Susan to colon cancer. Susan Cohan was just forty years old and the mother of two young children when she heard the devastating words "You have colon cancer." Despite her own suffering, she was always most concerned for the well-being of her family and friends, and with finding a way to spare others the anguish and grief this disease had wrought upon her family. It was Susie's vision that the foundation would be the international leader in colon cancer prevention, support and treatment.
Unfortunately for Susie's Cause, David Cohan, father of Susie and founder of Susie's Cause, died last month at the age of 82 from colon cancer. David was a fighter like his daughter and my sister. He will be greatly missed. All he ever talked about was one day seeing Susie and Charlotte in heaven. Well, David….you are with them now. 😉
My sister died from Stage Four colon cancer in February 2015. She was an amazing woman. Susie's Cause supported her throughout her treatments and when she was in remission. She was strong and she was optimistic. She lived her life fully. The resources the foundation provided for her and many like her are amazing. But they cannot do it alone either. This is where your extra help comes in.
First Giving Fundraising
Emily's Page – https://www.firstgiving.com/fundraiser/emilg/EmilySocolinskysCharmCityStrongwomanContest2017Fun
Thank you for your support. It will be quite a day for all of you and for my sister and for all of those who are fighting this disease. I cannot thank you enough for joining us in this fight. 😉