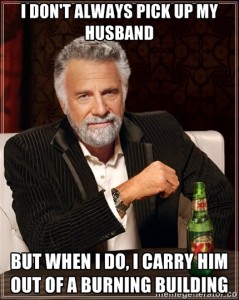 Disclaimer: "This is not meant to be the literal solution if your house is on fire." 😉 This is a post about why it is good to be functionally strong.

As some of you may remember, I recently had someone comment on my blog post about barre classes, telling me I was "completely wrong".  You can read the whole discussion here.  The original post had a picture of women doing tricep kickbacks during a barre class.  It turned out it was a picture of this person and her barre instructors, so she asked me to take it down (you can see it here), but it looked like something out of this awesome video:
I made the "innocent" comment that, based on their training methods, they could probably not carry their husbands out of a burning building.  I thought it was funny, but evidently she did not, since her comment to me was that "Perhaps they can not pull their husbands out if [sic] a burning building – not sure whose overall goal that would be anyway".  As you can imagine, that did not sit well with me, so I gave her a lengthy and professional reply ending with: "And for me, I DO want to know that if I had to, I could pull my husband out of a burning building."  But I was not satisfied to end the discussion there.  I decided to prove to myself that I could indeed pull this off.
Being able to pick somebody up off the floor and carry them is a valuable skill in case of emergency.  In the event of a fire or an injury, you may be called upon to help someone else by carrying or pulling them to safety.  While TV and movies always show a man performing these feats, there is no reason women should not be able to do that as well.  An unconscious person is a very awkward and unwieldy weight, so being strong will come in handy.  As Mark Rippetoe says, "Strong people are […] more useful in general".
Since this is such an important skill and it showcases the strength developed through proper strength training, I thought it would be fun to make video of myself carrying my husband out of a "burning building".  I had to wait a couple of weeks after my recent neck surgery before I could finally do it.
Right now, I weigh about 140lbs at 5'7″ and my husband weighs about 185 at 5'11".  We practiced this a couple of times before shooting the video to make sure I had the right technique.  I did almost crack his ribs with my shoulder the first time around.  Oops.  Once I had the moves down, it wasn't as hard as I thought.  Could I have done this a few years ago?  Probably not.  Do I feel more confident now that I could help him if I had to?  Hell yes.
Ladies (and gents, if you want to get in on this too), let this be a call to arms.  Don't let others put limits on what you can do.  You can be strong and useful, and still get your nails done.  So if it came to it, could YOU get your husband/boyfriend/girlfriend/brother/large dog out of a burning building?  Let's start a movement.  Make a video of yourself picking up someone else from the floor and walking away with them.  Please ask for permission first. 😉  Use your own technique and have fun.  Post the video on your Facebook page or YouTube and comment on this post with your link so I can share it with others.  Good luck and stay strong.