Barbell Training Workshop
Coaches: Starting Strength Coaches Diego Socolinsky, Emily Socolinsky and TBD.
Date: Saturday, April 24 – Sunday, April 25
Program Schedule:
Saturday, April 24, 1pm – 6pm: Lecture on biomechanics and squat technique, squat practical
Sunday, April 25, 9am – 5pm: Lecture on press and press practical, deadlift lecture and deadlift practical, lunch break, bench lecture and bench practical, programming lecture, Q&A
Price: $450
Venue:
Fivex3 Training
4015 Foster Avenue Suite 200
Baltimore, Maryland 21224
Who is it for? Coaches and lifters of any level, recreational athletes, general population
Spend the weekend learning the theory and practice of the squat, press, deadlift and bench. The workshop will begin on Saturday with a lecture focused on biomechanics and the basics of the squat, including a discussion of the lift, including the anatomy and forces at work in its execution.  After the lectures, we will move into the squat practical portion with plenty of time under the bar for all the lifters. We will finish the first day with a brief Q&A about the squat or lecture. This will end day one of the workshop. 
Day two of the workshop will begin with a lecture on the shoulder anatomy of the press followed by the practical portion for the press. Following the press, we will move into a lecture on the mechanics of the deadlift and the practical portion on the deadlift.  After the deadlift, we will break for an hour for lunch.  Following the lunch break, we will wrap up the lifts with a lecture on the mechanics of the bench press and the practical portion on the bench.  After the bench practical session, we will return for a discussion of programming. We will wrap up the workshop with a Q & A session. 
Due to COVID-19 mandates in Baltimore City/Maryland, masks are required at all times while inside.
Weightlifting shoes are highly recommended. If you use a belt, please bring your belt as well. Sweatpants or knee high socks are encouraged for the deadlifting portion. 
If you are looking for more in-depth discussion on the biomechanics of the squat, press, deadlift and bench, this is the workshop for you. Our goal is to provide you with more lecture on the anatomy of the lifts as well as a lot of time under the bar so you can use this new knowledge to get the most out of your own training and/or coaching. 
Who are we? 
Emily and Diego are the owners of Fivex3 Training in Baltimore, MD. We have been certified Starting Strength Coaches since 2010, and have served as seminar and oral exam staff. We offer group training barbell classes to people of all ages. Before opening Fivex3 Training, Emily was active as a professional dancer and teacher for over 20 years. During that time, she focused on strength training and a variety of cross-training methods that helped her grow and develop as a dancer and athlete. Diego has been training in a variety of disciplines for the last 30 years. His athletic background includes martial arts, rock and ice climbing, mountaineering, running and cross-country cycling.
To register for this workshop, please use the Pay Pal link below: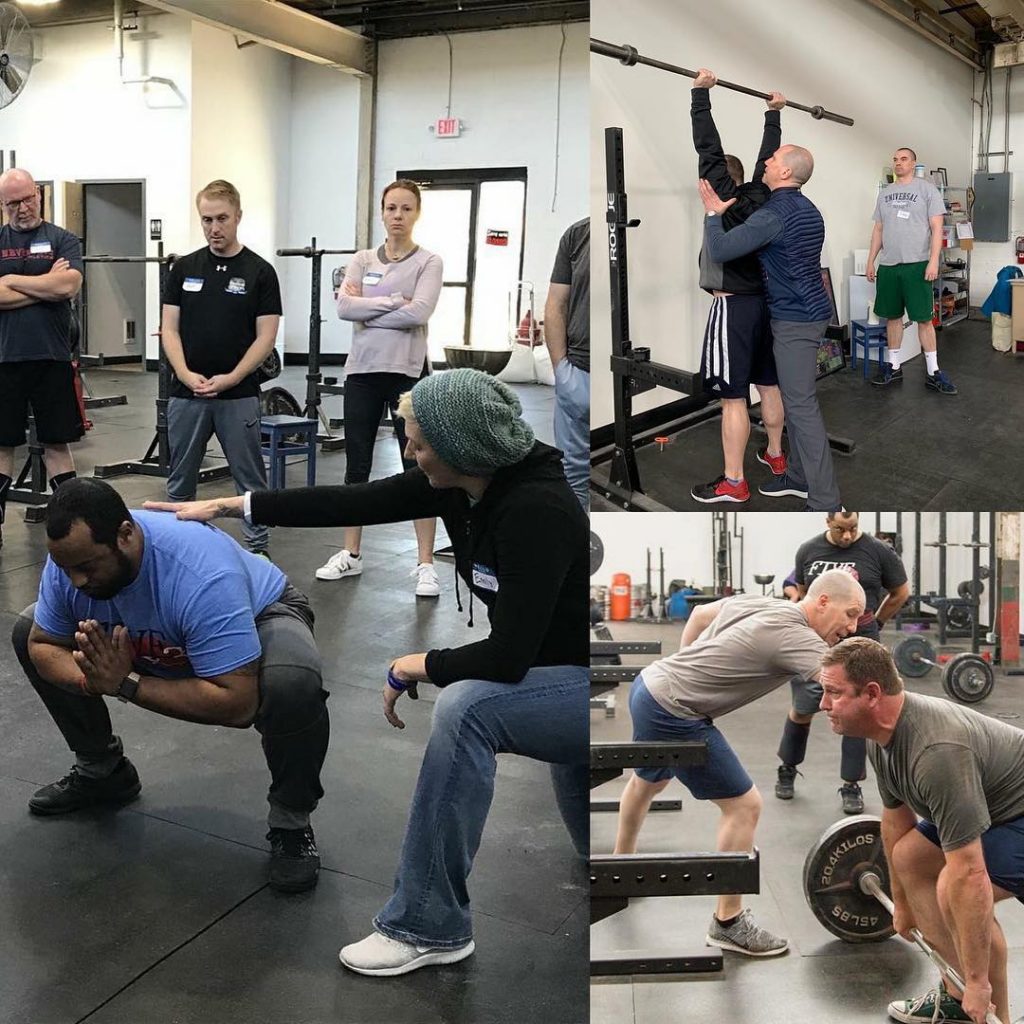 Kettlebell Sessions
Led by StrongFirst Level 2 instructor Gretchen Mester, this is a course designed for beginners: no prior experience required. Each session will challenge your core, back, shoulders, legs, providing you with a full body workout. You will learn the basics of the deadlift, swing (two and one-handed), Turkish getup, squat, clean, press, and more. You will build strength, endurance, and conditioning while honing your skills with the kettlebell. The hour long class will involve mobility/flexibility drills, skill drills, kettelbell complexes/chains, and finishers to help you torch calories!
Sessions run every Saturday morning from 9:30am – 10:30am beginning May 15, 2021.
May 15, 22 and June 5, 12, 19 and 26. There is NO class May 29.
$60 for Fivex3 Members and $90 for Non-Members.
Pay Pal link is below for Non-members.
[/container]