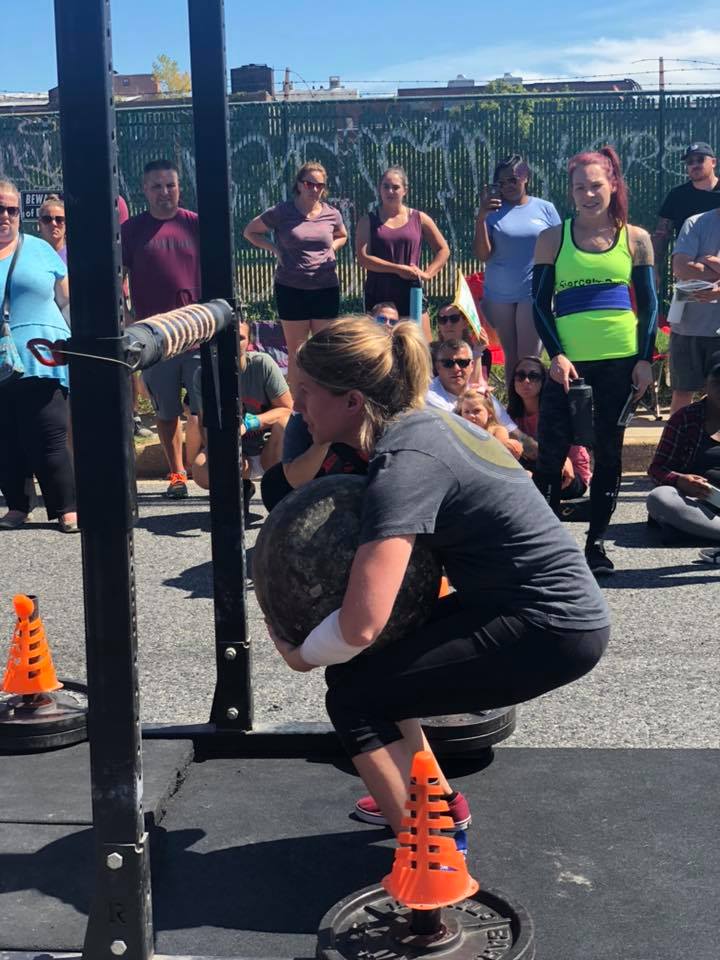 Hello Charm City Strongwomen!
The 2020 Pandemic has certainly been a shock to all of us. I had just put in my paperwork for our permit one month before we had to shut down the gym. ;( The Charm City Strongwoman 2020 Contest as we know it was a no go. I know that while everyone is understanding, there is still disappointment. We've all been through a lot this year, and I can tell that this event being postponed was just another thing, in a long list of many MANY things, that reminded all of us that we're in a whole new world.
I closed the doors to Fivex3 on March 16th, complying with Governor Larry Hogan's orders. I was concerned for my clients, my business and my family. Like many, I was scared about a world of unknowns. So many emotions and thoughts ran through my head. Would my clients return? Would I have a gym for them to return to? To be very honest, the last thing that I thought of was this contest. Re-opening the gym was the first and foremost on my mind, day and night.
Then, on June 1, we began outdoor training. And my members started to come back. Three weeks later, we were back inside the gym, cleaning, training, cleaning. I started thinking about the Strongewoman Contest. I started thinking about Stronger Together, our Partners Meet last December. Could I run these? How? What would this look like? What could I do?
Then one day last week, I had a conversation with one of my members and longtime volunteer.
"Emily," Jesse said to me one night at the gym, "You HAVE to run this contest. You just have to."
I looked at him, wide eyed.
"But how?," I asked. "I do really want a 2020 Charm City T-shirt. What would we do? What can we do?"
His sales pitch was strong. I told Diego. Diego liked the idea and said he would talk to Jesse. He did. And the rest, they say, is history.
Thanks to Jesse, I would like to announce that Charm City Strongwoman Contest 2020 is back on. No, we won't be outside on Haven. The contest will look very different, and we are working hard to define the best, safest way to do this.
Over the course of about a week, you will register for a specific day and time. On that given day, you will come in for one hour. You will weigh in, warm up and compete in four events during that one hour. There will be four competitors allowed at one time during the one hour time slot.
Contest Dates!!!!!
Friday, October 23
Saturday, October 24
Sunday, October 25
Monday, October 26
No, there won't be any crowds.
No, there won't be any spectators. (Except we are trying to figure out a way to live stream each day!)
No, there won't be any sponsors.
No, there won't be any vendors.
But…..that doesn't matter. What matters is that you get the chance to shine. To be strong in the face of this pandemic. It will just be you, your judge, and a heavy fucking log. And more.
We take your health and safety seriously, and can't wait to rise to the occasion. Strength, in spite of a pandemic, is always there, in family, in a time of need, in unity and in a divided world.
Divisions
There will be seven divisions.:
Lightweight Novice: 140 and under
Middleweight Novice:140.1-185
Heavyweight Novice: 185.1 and over
Lightweight Open: 140 and under
Middleweight Open: 140.1 – 185
Heavyweight Open: 185.1 and over
Masters
(Masters: Women 40 and up. Must be 40 years young on or before September 15, 2019. Masters will lift the same weights as LW Open. )
(n.b. The meet directors reserve the right to move you from class to class based on their discretion the day of the event. Divisions will be combined if there are not more than 5 in a division.)
2020 EVENTS
1st Event: Hammer Hold
Each competitor will hold the implement in two hands for time. Tacky is not allowed. Straps are not allowed.
2nd Event: Stone to Shoulder
Each competitor will have 60 seconds to shoulder the stone to her shoulder as many times as possible. Competitor must wait for the down command before each rep.
3rd Event: Pinch Block Hold
Each competitor will hold the implement in one hand for time. Tacky is not allowed. Straps are not allowed. Chalk is allowed.
4th Event: Log Press for Max Reps
Each competitor will have 60 seconds to clean and press the log for as many reps as possible. Chalk is allowed. Tacky is not allowed.
Registration Information
REGISTRATION FORM: To come soon…
REGISTRATION FEE: 
$35, competition and t-shirt.
$45, competition, t-shirt and a Charm City Strongwoman Mask
THE REGISTRATION FEE IS NON-REFUNDABLE. NO EXCEPTIONS. Once you have completed the registration form, you will be sent a Pay Pal link and will pay using the Pay Pal button. THE REGISTRATION FEE IS NON-REFUNDABLE. NO EXCEPTIONS.
All proceeds from the Charm City Strongwoman Contest benefit the Ulman Foundation, who create a community of support for young adults, and their loved ones, impacted by cancer. All profit will benefit the Ulman Foundation for prevention and research. We are raising money specifically for the Ulman House, a home away from home for cancer patients and their families.
WEIGH-IN'S: The day of your contest.
DEADLINE TO REGISTER: Registration will be open until October 19, 2020. However, if you would like a t-shirt, please get your registration in by October 1, 2020. Thank you!